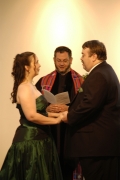 Yes, for those of you that are living in a cave and didn't hear the news, I got married. Louann and I were joined in marriage on Saturday, September 23rd.

Our wedding ceremony started just after 11:30 am at the Unitarian Universalist Congregation of York, 925 South George Street. The Reverend Robert Renjilian officiated the ceremony.

Following the ceremony, Louann and I walked under an arch of fire axes to board a 1958 American LaFrance pumper for the ride to our recpetion.

Our reception was held at the Susan P. Byrnes Health Education Center at 515 South George Street in the Great Room. The Great Room is the former showroom of the Stetler Dodge auto dealership, which has been maintained in it's original condition, with a grand staircase that Louann and I used to enter the reception.

We enjoyed a great meal provided by our friends at Sam & Tony's Pasta House on West Market Street. We also enjoyed music by DJ Steve Lacotta. And there are so many people who helped to make this day special, and we thank you all.

Louann and I then enjoyed a week in (very) tropical Key West, Florida, where we stayed at the Ambrosia House bed and breakfast. The heat and humidity kept us from doing as much as we would have liked to do, but we managed to enjoy our week in the Carribean.