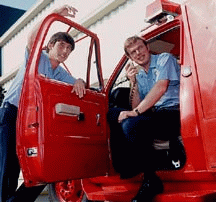 HOME PAGE
EMERGENCY!
&nbsp



Do you remember EMERGENCY!, the 1970's television show about the Los Angeles County Fire Department paramedic service?

Well, I do, and so do quite a few others. It's now playing on the cable TV channel TVLand, as well as on other channels in different areas. There's even a newsgroup dedicated to the show. I maintain the EMERGENCY! FAQ here on my site.

At one time, I kept a fairly inclusive list of Emergency related web site links here. However, sites come and go too quick to keep up with them, so I will instead provide a select few that I enjoy:


In May of 2000, Project 51 visited several cities in the Baltimore/Washington area on it's way to the Smithsonian. I had the pleasure of attending several of the events, collected autographs of several of the show's stars, and had an opportunity to meet other Emergency fans from all over North America.

Below are several photos that I shot during these events. As always, click on the thumbnail photo to see the full sized photo:
| | | |
| --- | --- | --- |
| | | |
| The restored Squad 51 vehicle on display at Camden Yards prior to the Orioles game on May 11, 2000. Randy Mantooth drove the squad onto the field during the pre-game ceremonies, on "Firefighters and Paramedics Night" at the park. | Here you can see one of the turnout coats and one of the helmets that were used during the filming of the series. These are some of the items en route to the Smithsonian for induction into the museum. | Here I am posing with the squad. The restoration job was quite well done, as the paint is virtually flawless. |
| | | |
| Here I am watching as Randy Mantooth, the actor that played "Johnny Gage" autographs my Emergency! Companion booklet. Kevin Tighe was originally scheduled to be here, but a work committent kept him away. | I'm standing in line waiting to get more autographs. Here you see Ron Pinkard, who played Doctor Morton on the series, and actor Marco Lopez, who played Firefighter Marco Lopez on the show. Lopez was not an actual firefighter, but he had the same name as his character. | And here you'll see actor Tim Donnelly, who played Firefighter Chet Kelly, and retired Firefighter Mike Stoker, who played himself on the show. Stoker was the only actual LA County firefighter that was a regular on the series. |
---
Page maintained by Greg Halpin of York, Pennsylvania (USA).
This page was last updated on 3/13/2006.