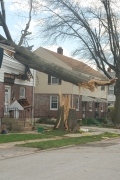 All of the weather forecasters were predicting that there would be heavy rain hitting the area on Saturday, April 16, 2011. The predictions were made about a week or more in advance. I had been planning on walking a section of former railroad right-of-way in Maryland with a group of rail enthusiasts that day, but it was cancelled prior due to the impending weather.

So, after a trip up to the Pennsylvania National Fire Museum in Harrisburg to meet up with some fellow fire historians, I made my way back home and we decided to weather the storm at home. We dined on carrout from Smokey Bones, and later that evening the winds really picked up. And then the really strong winds came .... very loud and steady for a minute or two, maybe more. The lights started to flicker and I grabbed my little flashlight off of the table next to my chair, just in case.

Our power never went out, but I guess that was sheer luck. Not long after the scanner started non-stop with water rescues, wires sparking calls and other weather-related incidents. We eventually noticed that two areas near us had apparently suffered the brunt of the storm - Carlisle and Brougher in West Manchester Township and Fireside Park, just a block or two away from us. We checked our house, and all seemed normal other than a few things blown around the yard. The photos show the two areas mentioned above on Sunday afternoon.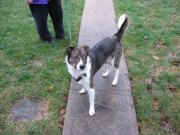 Louann and I had talked a few times about getting a dog. We were both receptive, but we didn't want to rush anything. Around Thanksgiving, while Charly was up visiting from Nashville, Tennessee, we took care of his dog Cole for a few nights so he could visit with friends without worrying about her. This was a good trial run for us and we decided the time was right.

We decided that we didn't want a puppy, but rather we wanted to rescue an adult dog from a shelter. So, we did some looking and finally visited the SPCA. We filled out an adoption application, and two weeks later we went back since we hadn't heard a yes or no. Well, it seems that the person that took our application had apparently messed up, so we found out that we were approved, and decided to visit with some dogs.

Our first visit was with a dog they recommended to us - Riley. Although Riley was a nice dog, the dog didn't make a connection with us, and we didn't make one with her. We walked through the kennel again, and made a list of dogs that we were interested in, and that seemed to respond to us in the kennel. We juggled the list, putting them in a priority. The first dog on the list was Ruby.

Ruby visited with us in an outside run, and really responded to Louann with a toy. We found this interesting since her sheet said she had little interest in toys. She responded well to both of us, so we asked if we could visit with her in an inside room so there would be less distractons for her. The inside visit went really well, and she really warmed uo to us. We made the decision and brought Ruby home.

Our first night with Ruby was excellent. Ruby is already house-broken, and she lets us know when she needs to go out. She also has been trained by a previous owner, and responds to sit and listens fairly well to both of us. She does well on a leash, and was actually in this year's Halloween Parade in the SPCA's group of walkers. She slept the whole night in a bed next to our bed, and didn't need to go back out until morning when we both got up.

Ruby's sheet says that she didn't get along with another dog in her last home, and we've noticed she's a bit timid around other dogs, although we haven't seen any aggression. There is also a note about her having a problem with a baby at her last home, but this really doesn't seem to fit her disposition. We'll continue to monitor that, but we suspect that there was another issue involved there.

So rememebr that there is now a canine resident at our home, our pretty girl, Ruby.